Microsoft Office suite is definitely the most widely used office productivity software because of its ease of use and flexibility. Choosing the best operating system will depend on the question of having the best productivity software availability. Now, Linux distros are versatile and come with a lot of options for choosing productivity software. But still, Microsoft Office is not available for Linux. No worry dear Linux users, there is a bunch of best free office suite available in the market which is quite resourceful and can be used as an alternative to Microsoft office suite.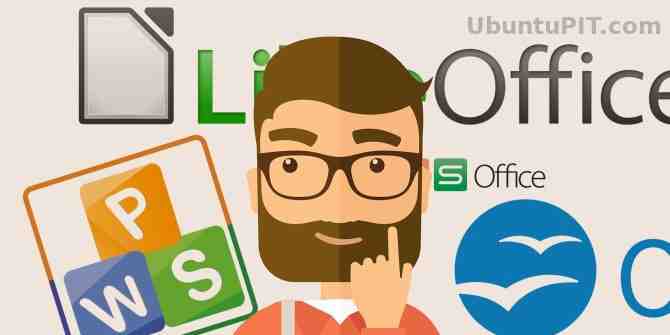 Best Free Office Suite for Linux
I will share a generic list of Free Office Programs for Linux as an MS Office alternative in this roundup. For clarification, all the features and tools are described here taken from their official site, and all are not included. This list is not in any specific order.
1. LibreOffice
LibreOffice is the most favorite and well-known best free office suite in the Linux community. LibreOffice is forked of well-known but discontinued office suite Apache OpenOffice. Now LibreOffice is the default-free office suite for many Linux environments.
Moreover, LibreOffice is a cross-platform and open source best Microsoft office alternative free office suite for Windows and Mac OS. It has a great community for helping you out if you faced any problem in any desktop environment. It supports various file formats, including open document format and ms office files.
Download LibreOffice
2. Apache OpenOffice
Apache OpenOffice is one of the best free office suites available around in the Linux community. It offers a lot of options and features for making documents, presentations, sheets, etc., and can be used as a great MS Office alternative for all the major OS, including Linux, Windows, and macOS. Apache OpenOffice supports MS Office files format besides standard OpenDocument format.
Download Apache OpenOffice
3. WPS Office for Linux
WPS Office is one of the world's best free office suites available for the Linux community. It's beautiful, faster, lightweight, and offers a modern, slick user interface.
WPS Office has all the tools that you need to perform your office task. It has a free version for Linux with word processing, spreadsheet, and PowerPoint, just like the MS office offers.
WPS Office's output documents are fully compatible with other office program file formats. It supports all the major Linux distribution like Ubuntu Linux, Fedora, CentOS, OpenSUSE, etc.
Download WPS Office Free
4. OnlyOffice – Your Private Cloud Office Suite
OnlyOffice is an open source cloud-based office program just like Google's G Suite. This office productivity suite lets you create and manage projects and documents for teams and customers all in one place.
You will get all the features and tools with a simple and modern slick design in this best free office suite. It creates business workspaces, ensuring security and privacy as well. You can use the OnlyOffice cloud office suite or deploy it on the private server for absolutely free.
Download OnlyOffice
5. Feng Office – Project Management
Feng Office – Previously known as OpenGoo, is an open source and free community edition office suite for Linux as the best Microsoft Office alternative. This is one of the powerful business platforms of project management and collaboration for teams and organizations.
This completely free office program lets you create and manage projects, clients, reports, workspaces, documents, workflow processes, etc. This community edition office suite is best for business and team communication, which lets you ensure client satisfaction, save time and money, improve productivity with a high return on investment.
Download Feng Office Community Edition
6. Google's G Suite
Google's G Suite is a very powerful and versatile online cloud-based office productivity suite used to create and share word documents, sheets, presentations, drawings, forms, calculations, etc. Many of us already know about this web application but might fear using it because of losing core functionality by going cloud-based.
But believe me, Google's G Suite is a robust app suite with lots of amazing functionality that many of us do not know about. Google's G Suite is equally suitable for professionals and students as well as best for personal use.
So you must have the courage to leap, leaving offline-based office programs, toward using cloud-based Google's G Suite and be amazed to see tons of powerful tools to do the productivity task.
7. SoftMaker FreeOffice
SoftMaker FreeOffice is a completely free office suite program for both personal and business usages in your Linux system. It's the best competitor to the MS office suite with the best alternative of a word processor, a spreadsheet application, and a presentation program.
Moreover, FreeOffice supports all the MS office and OpenDocument files format. Don't forget to download and check the worthiness of this best free office suite for Linux.
Download SoftMaker FreeOffice
8. Calligra Suite
Calligra Suite – formerly known as KOffice, is a developed and open source free office program for Linux. Though it's basically made for KDE desktop environment based on Qt-based office solution, you can still use it on any Linux desktop environment or platform.
The calligra productivity suite is bundled with a word processor, spreadsheet, presentation, flowchart designer, painting software, etc.
Download Calligra Software Suite
9. GNOME Office
Gnome Office is another free and open source office program for Linux, especially for Gnome desktop environment GTK technologies. It supports all the major files format, which you can imagine using MS office suite, LibreOffice, Apache OpenOffice, etc.
Gnome Office offers a set of productivity software that is quite simple to use, effective, lightweight, and lean.
Ease: A Presentation Software
AbiWord: A Word Document Program
Gnumeric: A SpreadSheet application
Inkscape: Drawing Software
GnuCash – Financial Management App
Evolution – Lightweight Linux Email Client
Evince – A Linux PDF Viewer
And more
10. Siag Office – A Free Office Package for Unix
Siag Office is an extremely lightweight free office suite program for the Unix-based system. It's so lean and clean that you can install it on an age-old laptop or system. Even it can be run on a system of 16MB RAM.
It consists of a few simple office package, namely spreadsheet SIAG, animation program Egon Animator, text editor XedPlus, previewer Gvu, and file manager Xfiler. Though it lacks some basic office tools and features, it can still be useful and fulfill the minimum demand of any lightweight Linux distro users.
Honorable Mention
Oxygen Office
Final Thought
So, in the end, you may now understand that the Microsoft Office suite is not only the option; rather, there are a lot of choices in the world of Linux. This list of Linux office suite will save your money and replace as the MS office alternative. Is this article on Best Free Office Suite for Linux helpful? Which one did you like most in this list? What your favorite office productivity suites? Let me know your suggestion and experience in the comment section.