Microsoft 365, which was rebranded from Office 365 earlier in 2020, is Microsoft's flagship productivity software. For a monthly fee, you can subscribe to a plan and gain access to several programs such as the classic Microsoft applications Word, PowerPoint and Excel. You may be surprised to know your Office subscription comes with over 20 installed apps ready to use*.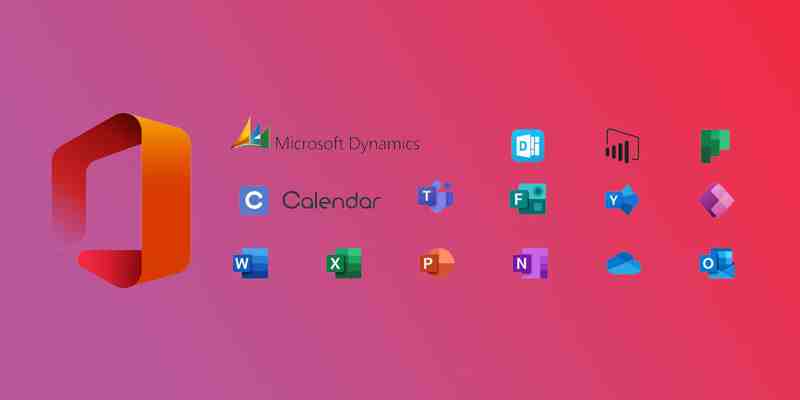 There are 100's more in the Microsoft Store, but we're just going to focus on the ones that built-in automatically. Here at Superfast IT support, we recommend Office 365 to our clients to help with their business needs and productivity. It's also more secure than using a traditional on-premise Microsoft Exchange server.
*Not all Office 365 plans will come with all of these applications.
Integrated into Outlook, the calendar application will allow you to schedule and accept meetings and events. Calendars can be shared among team members too. Automatic reminders can be set up with custom alerts.
Delve is a document manager that allows you to bookmark files you need from Sharepoint. You can see which members of your team are working on specific documents and view their profiles. Delve also allows you to edit your Office 365 profile such as profile picture and job role.
Dynamics
Dynamics is an all in one business manager. You can add custom applications into dynamics such as leave requests and expense reports. It's like having an office admin person on your computer.
Excel
Microsoft Excel is a spreadsheet application that allows you to collate and edit data. Formulas allow for automatic calculations to be carried out making your work more streamlined.
Flow (rebranded as Power Automate)
Allowing you to automate your workflows Flow saves you time in a wide range of ways. There are hundreds of possibilities to set up on flow from the weather being sent to your phone to automatically arranging meetings.
Forms
As the name suggests you can create forms, but there's a host of other things you can do too. You can also make survey's and quizzes with lots of customisation. The results can be exported to excel to analyse.
OneDrive
OneDrive is a cloud storage system. Plans tend to come with 1TB storage per user which should be plenty for most people. You can share files with specific people and access them anywhere with an internet connection.
OneNote
Creating notes by typing, drawing or writing OneNote is your digital notepad. Pick up where you left off on another device and share notes with your team.
Outlook
Microsoft's E-mail application outlook is the industry leader. It's smart user interface, and business feel makes it a firm favourite. There are desktop, browser and mobile versions available.
People
All your contacts in one place. People will let you organise your friends, family and business contacts. The app will learn your favourite contacts and recommend people you might want to contact.
The easy way to organise your team's tasks.
Planner
Planner allows you to create, assign and edit. You can group tasks into teams or even set individual planner boards.
Power BI
Allowing you to create highly visual data dashboards for your team, Power BI is your all in one data hub. Sales, marketing, service and more all have custom applications for you to create your unique dashboard where data analytics/ insights visualised. The platform integrates with Excel and has the ability to pull through data from other sources. There is a high level of automation, once the reports have been set up and has AI (artificial intelligence) capabilities. There is also has high security protection, due to the sensitive nature of the data that would normally be used within the platform.
PowerApps
An application builder, PowerApps takes the data you already use to create web and mobile apps. You can build your own from scratch or use one of the many pre-set templates provided, using 'drag and drop' function to create the app.
PowerPoint
The presentation application has been around for a long time now.It's vastly improved over the years and now allows you to create professional presentations with a host of options.
Sharepoint
As the name suggests if you have a file to share this is the application you need. Only download the data you need and make them easily accessible to others in your team.
Stream
Microsoft's answer to YouTube. The video hosting application allows you to upload, embed and share your video content around your team. Stream is based on the idea of education.
SWAY
Reports, training material, presentations, newsletters and more. Sway is the modern version of Microsoft Publisher. Easily embed content from the web to make professional looking content.
Tasks
Microsoft Tasks is integrated into your Outlook and lets you create tasks for yourself and others. You can set due dates, reminders and priority levels too.
Teams
The live chat team workspace is Microsoft's answer to WhatsApp and Zoom. It allows real-time messaging between people in your team and is seen as the alternative to internal email. The video calling function has helped many businesses to keep in touch with colleagues while remote working. Microsoft has added much functionality to the program during 2020, including the option to have 'breakout' groups, competing with Zoom's functionality.
To Do
Your online daily planner. List out your tasks and give them a completion date and toggle priority. You can add notes, access them on mobile and sync with your Outlook.
Word
Everybody knows Microsoft Word. The document creator allows you to type all your thoughts and more down. You can create posters, leaflets and more.
Yammer
Microsoft's take on a social media network. Yammer allows you to share updates, comment on other people's updates and have private communication. The program can allow a business to build communities within your organisation where you can share interests; it could be as simple as a company social committee or the place to share relevant articles of interest to your business.
If you liked this article, then you may find these Microsoft tips helpful:
How to set up autosave on Microsoft Word/Excel/PowerPoint documents
Which Office 365 Plan should I buy for a small business?
How to create an email signature in Outlook
Can you recover deleted emails in Outlook? How to guide
Which operating system am I running? Windows or Mac
Sign up to our newsletter
If you want to keep up to date with the latest IT and Microsoft tips, then subscribe to our newsletter.
IT support for your business
Learn about our IT support business packages and pricing to understand what coverage your small or medium-sized business might need.