During the first few months of the pandemic in 2020 when the UK was in lockdown, I decided to finally follow through with some plans for the house to help make some appliances easier to manage.
The first easy win in this was smart lights. Over a weekend, I replaced every light that we used across the house with a smart one that would be available to manage over Apple's Home app, or Amazon's Alexa as a way to command the lights in the living room.
But while Apple's Home app, in which you can manage all of your lights and other smart home appliances, was easy enough to use, it's never had widgets , which has always baffled me.
Widgets first arrived in iOS 14 back in 2020, but it's taken an innovative app called Home Widget to lessen my annoyance with the lack of a Home one. Now, I've got a bunch of widgets on my home screen for my lights, without opening a single app.
Let there be (smart) light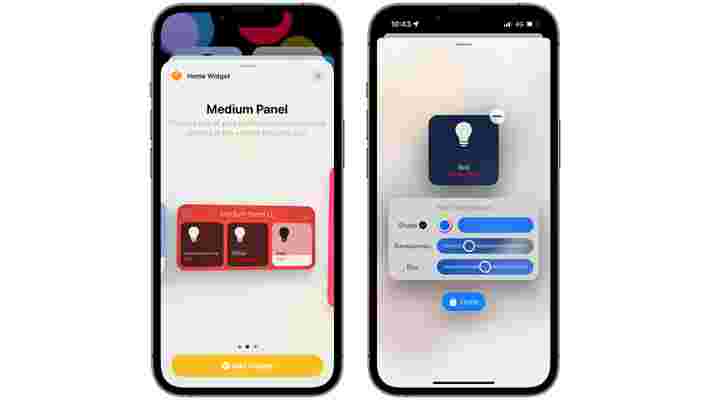 Available for free, alongside an in-app purchase of $8.99 / £8.99 / AU$10.99 to let you create an unlimited amount of widgets from the three you can create, the app will monitor every smart appliance that's connected to your iPhone , and these will show in the app.
After this, you can create different panels for the lights or other appliances in your home, alongside choosing the colors, icons, and more.
Once you're done, you can place them on your iPhone or iPad home screen. Pressing one of these will either switch on or off what you've selected, without having to go into an app like Apple's Home.
Yes, this may sound very obvious to those who don't have smart lights in their home that manage them through an iPhone, but after two years of using the Home app, it's always felt off that a tentpole iOS feature that Apple has been showcasing since 2020, is nowhere to be found in its own Home app.
But Home Widget does it well, especially in how easy it is to manage your widgets. There's also a nice touch of the app showing all the widgets you've made on its launch screen, in a Tetris layout.
The app recently updated to 1.2, which brings support for HomeKit cameras, battery sensors, the color of your lights, and more.
Regardless of whether Apple brings widgets to its Home app in the future, perhaps at WWDC 2022, Home Widget is already a favorite and scratches a big itch that I've had for my house for two years.
The new iPad Air does, indeed, hit 100% much faster with a charger upgrade
Now that we've completed our iPad Air 2022 review , we have a bit more time to get into the weeds of what this tablet can do.
One of the gripes we had in the shakedown was that Apple only puts a 20W charging block in the box of one of its best tablets . Now, we know we should be grateful for any block at all, given they've been dropped from the iPhone series, but it doesn't feel large enough.
But we did have the 30W MacBook USB-C charging block available to test (which costs $49 / £49 / AU$69), so we thought that we'd give that a run down comparison - here are the results: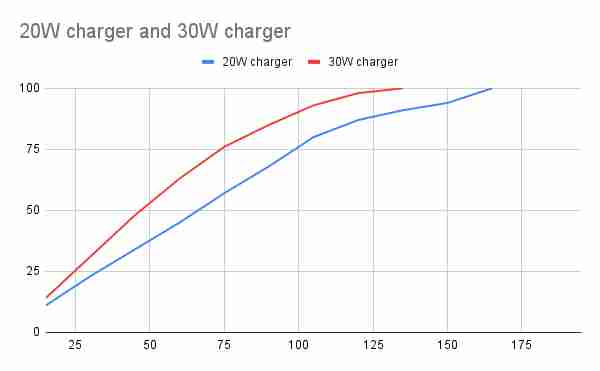 As you can see, the 30W charger (in red) charges faster than the linear juicing speeds of the in-box 20W option (in blue).
The 30W charger managed to get the iPad Air 2022 to 100% in just over two hours (2:11, to be exact), where the 20W achieved full power in 2:40.
That's a pretty hefty difference in actual fact - when we first went to write this article, we were expecting to bemoan the charging speed of one of the best iPads .
It's also interesting to note that the first half hour is quite different too -  the 20W charger got the iPad Air to 12% in 15 minutes, and 25% in half an hour.
With the 30W block, it was 15% and 31% in the same timeframe - if you look at the graph above, you can see that the Air is able to get a lot more juice quickly with the faster charger.
So, while it might sound obvious, it definitely pays to get the 30W charger, as it does make a clear difference to your iPad's charging speed. And you don't always need to go for Apple's own brand if you want to save money, either.
If you're thinking of buying a new iPad Air, check out Lance Ulanoff's 24 hours with the iPad Air 2022 - it's a brilliant read and has a truly stunning speed sketch in it.
The New York Times' divisive Wordle crackdown is the right thing to do
The New York Times has irked the Wordle community yet again with its decision to shut down a Wordle Archive. The website offers Wordle fanatics the chance to dip back into puzzles of the past. So if you missed a day, or want to know why everyone was losing their minds last week you could relive the moment all over again.
But not anymore. If you visit the Wordle Archive site now, you'll be presented with a forlorn little missive that reads: "Sadly, the New York Times has requested that the Wordle Archive be taken down". Although the internet being what it is, you can still play an archived version of the Wordle archive which cuts off on March 3 with puzzle 257.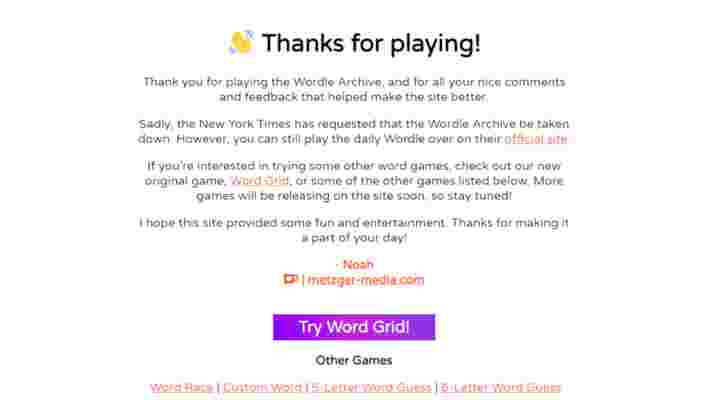 This is the latest Wordle-related move from the New York Times that has ruffled feathers in the community. After the initial furor accusing the website of trying to monetize the game after it bought it from creator Josh Wardle , a slew of players lost their progress, putting an end to some undoubtedly impressive streaks.
The Wordle fanbase also kicked off over a perceived ramp up in difficulty ; it turns out, this was entirely imagined and blown out of proportion (although the word list did get an overhaul). And now, what with cracking down on the Wordle Archive, the segment of players that indulged will be on the warpath.
Opinion: it's the right move
But I've got to say, the NYT is on the right side of this one. Wordle's hook is that it's a daily, one-shot puzzle. An archive of past puzzles is pointless – and the antithesis of the game's allure. The beauty of Wordle is in its brevity. You spend a few minutes agonizing over the answer before banging it out and moving on with your day.
If you want an infinite Wordle, there are a plethora of alternatives , including one that's literally called Wordle Unlimited . You can harvest unlimited dopamine hits from one puzzle if that's what you're craving, or dip into some daily Wordle clones for a little variety.
A Wordle Archive ditches the game's USP and does away with the online social aspect of the game – which I actually despise, but only because I prefer to play alongside my friends so I can physically rub my Wordle grid into their face in person.
Of course, the Wordle Archive wasn't a one-of-a-kind concept. There are more out there, like this one . That'll feel the wrath of the New York Times soon I imagine, so if you love rifling through old Wordles, best to get it out of your system while you still can.