Posted onJanuary 26, 2021
Pre-Dojo:
Worked as a math teacher and high/middle-school Principal
Had fears of changing careers in her late 30s
Was interested in exploring coding to better understand technology and pursue a holistic life
After Dojo:
Works as a Software Engineer
Can learn new technologies and skills quickly
Happy with her work/life balance and career pathways
Program: Three Full-Stack Bootcamp in Chicago, IL
Testimonial:
One of the big benefits of Coding Dojo's 3 full-stack approach is that I have been confident in my ability to learn new languages and frameworks. In fact, each job I have had since graduating has been in a language that I didn't learn at bootcamp. However, because I learned the fundamentals, and was able to observe patterns across multiple different languages, I was able to pick up new ones on the job!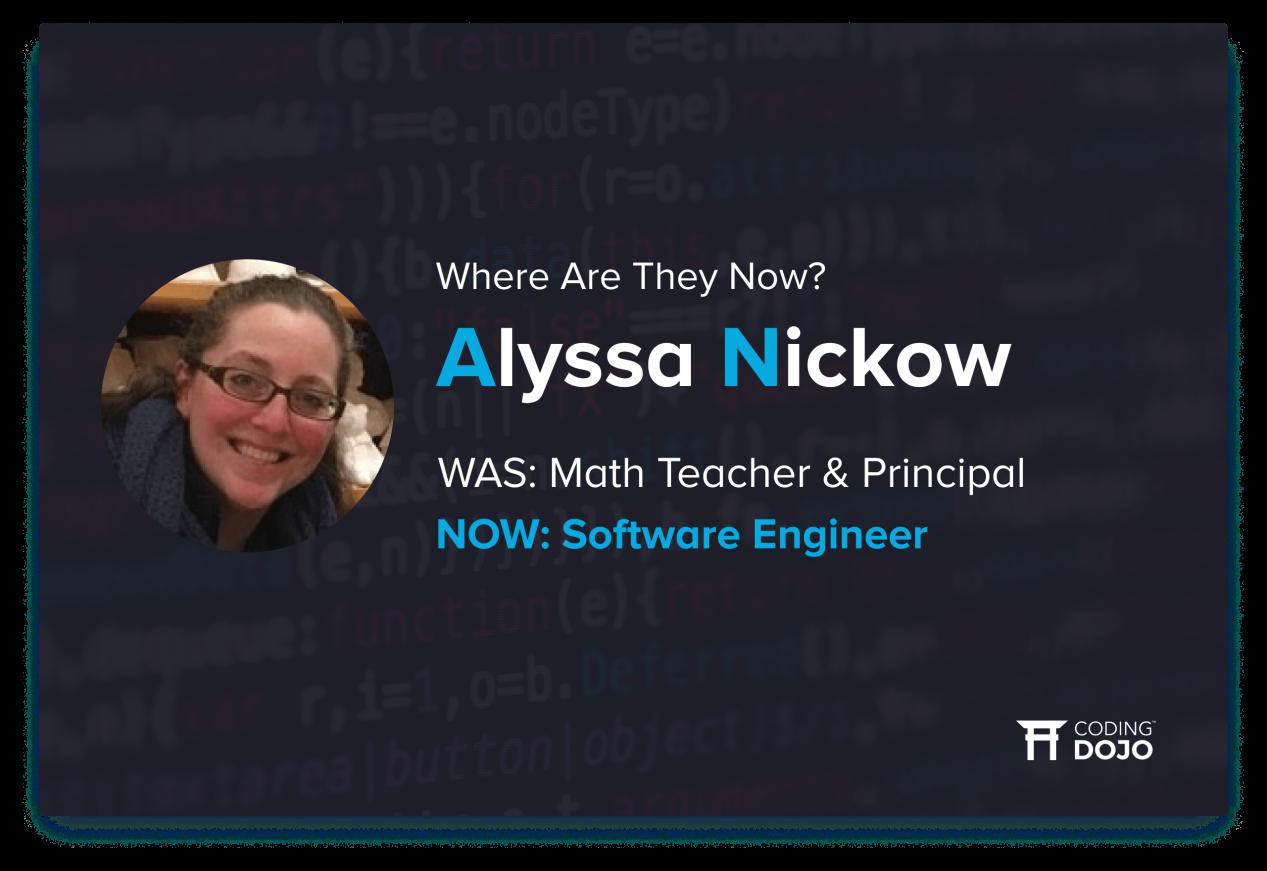 Tell us a little about yourself. Age, hobbies, passions, and what you were doing (professionally) before the bootcamp.
I am 40 and a big fan of stand-up comedy, true crime podcasts, and taking one-off classes on different hobbies so I can try them all once, but rarely sustain them beyond that. These have included (but are not limited to): pasta making, wood burning, watercolor painting, candle making, calligraphy, embroidery, knitting, and stamp making. I am an aunt to two amazing niblings who I love spending time with when I am able. I also share my home with an amazing dog named Rocky.
My previous career was in education where I worked for about a decade, primarily as a middle school math teacher before I moved into school leadership first as an instructional coach and IB coordinator and then finally as a middle/high school Principal.
Beyond the desire of learning to code, why did you decide to enroll in a coding bootcamp?
When I left education, I was initially interested in educational technology and began to explore coding as a way of better understanding the technology to support work in a non-technical role. However, the more I explored job opportunities, role descriptions, and my own vision of my holistic life, the more interesting the technical roles sounded to me. I continued my own learning to confirm that it was something I was really excited about before seeking out a bootcamp to support and accelerate my growth.
What fears or doubts were holding you back from enrolling? How did you get over them?
I didn't have any specific fears about enrolling in a bootcamp. I would say my fears were more broadly around making such a large career change in my late 30s. Leaning on my support network was helpful, but I also was encouraged by meeting with a recent Coding Dojo alum with a similar background to me. She and I connected well and hearing about her job search experience and chatting with her as she started her first job in the industry was very helpful in alleviating my fears. I also made a big effort to attend a lot of meetups and networking events which helped me to meet other people who I could connect with in similar ways.
What sealed the deal on Coding Dojo? Why did you choose us over other programs?
I considered three different programs, but Coding Dojo stood out to me mostly because of the people I interacted with as I was learning about the programs. The people I met through Coding Dojo made me feel like I was being heard and followed up quickly with responses to specific questions I had. I took this as a sign for the kind of support I would get as a student.
What was it like getting ready for the bootcamp? How did you prepare?
Having worked in education for many years, I was very familiar with the anticipatory anxiety that comes before a "first day of school". I leaned on tried-and-true preparation strategies, but also appreciated the pre-work that was shared by Coding Dojo because it gave me somewhere to focus my nervous energy and begin to prepare for rapid learning.
Walk us through your first few weeks in the program. What were parts you liked? Parts you struggled with?
Having come to Coding Dojo directly out of a period when I was not working full-time, one of the biggest adjustments was maintaining my energy and focus through a full 8-hour day. My cohort mates and instructors were wonderful, and I appreciated getting to know them and learning how to work together. I also liked starting each day with white-boarding because it got my brain and body moving early.
How did you overcome the obstacles or struggles you faced?
Having a good support system, both with my cohort and with outside friends and family was really crucial. I was also lucky enough to have a few friends who are also software engineers, so sometimes picking their brain or sharing a new programing joke I finally understood with them was a good way to get through a challenge and alleviate stress.
Do you have any fun anecdotes to share about your time in the bootcamp? Make good friends? Fond memories?
During one of our project weeks, the goal was to create a dating app. My group decided to twist that slightly and make an app for finding dog play-dates. Thinking through the features and matching criteria was so much fun and made the development work so engaging. I appreciated being able to bring a little bit of absurdity to the project!
When your graduation date was approaching, how did you feel about your skills and job prospects?
I felt ready for the interview process more than I felt ready for the job, and I was a bit concerned about losing the structured schedule that Coding Dojo gave me. I also realized after a few interviews that my imposter syndrome was showing a LOT. I ended up doing a volunteer apprenticeship with The Difference Engine shortly after graduating, and getting to put my skills into practice for a client helped me to get past the imposter syndrome and feel confident in taking what I learned at Coding Dojo into a workplace.
How did the job hunt go? Where did you land a job?
It started out slowly, mostly because I wasn't applying as actively as I could have been. However, once I started focusing more on my job search, I got to a good place. While I did send out a lot of resumes with no response, I was able to move through the full interview process with three companies and received offers from all three.
I chose NextCapital as my first career in tech. I was there for just under two years before I made a move to The Graide Network. Currently I am working as a software engineer at Chime.
What advice do you have for others who are interested in coding bootcamps or who are just starting one?
It's impossible to understand everything deeply. You are going to be learning a lot, and everything you learn will have layers and layers of understanding that go beyond what you need to be able to use the information meaningfully. Consider how deep your knowledge needs to go and be strategic about when you are interested and motivated enough to go beyond that. Finding a niche is great, but no software engineer is an expert in everything.
Beyond the coding expertise, did the bootcamp give you anything else?
One of the big benefits of Coding Dojo's 3 full-stack approach is that I have been confident in my ability to learn new languages and frameworks. In fact, each job I have had since graduating has been in a language that I didn't learn at bootcamp. However, because I learned the fundamentals, and was able to observe patterns across multiple different languages, I was able to pick up new ones on the job!
What are your goals or dreams for the future, say 5 or 10 years from now?
I don't have specific career goals. I still feel like I'm learning and navigating, and trying to stay open to a variety of possible paths that interest me. However, I am very content right now with my holistic life both at and outside of work. My goals/dreams for the future primarily revolve around keeping that at the center of my decisions.
—
If you are interested in getting out of a rut by learning how to code and changing your career trajectory, Coding Dojo bootcamp offers accelerated learning programs that can transform your life. We offer both part-time and full-time online courses, as well as onsite (post COVID-19) programs. We also offer financing options, scholarships, and other tuition assistance programs to help you with financial barriers.
If you want to invest in yourself and your future, there is no better time than the present! If you're interested, use this link to schedule a 15-minute exploratory session with one of our Admissions representatives today.