Last Updated on November 16th, 2021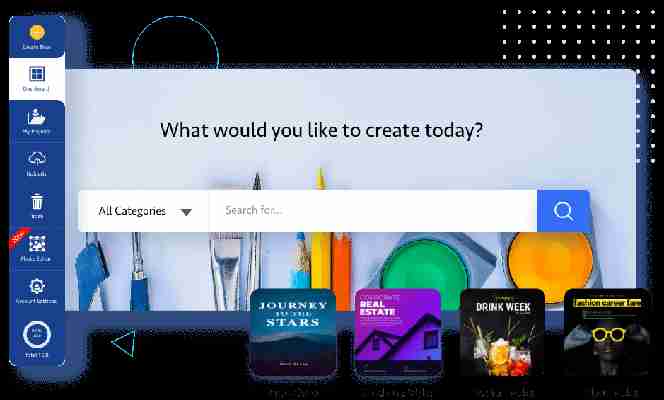 Appy Pie Design is a free graphic design software that helps you create the perfect aesthetic designs for your business and individual needs. Created with beginners in mind, Appy Pie's revolutionary graphic design software manages to be:
An intuitive design software made for all
Provides advance design tools for professional designers
Allows design teams to work together on complex graphics
Appy Pie has always aimed to make software easy and fun to use. It continues this trend with Appy Pie Design's simple and shallow learning curve. Anyone can create breathtaking visual designs with our simple template-based design interface.
Here is a list of everything you can design with Appy Pie's Graphic Design Software within minutes:
Poster design
Logo design
Flyer design
Card Design
Brochure Design
Banner Design
Infographic Design
and much more…
Appy Pie 100+ categories of templates for various kinds of design a business might need. Each design template can be customized and edited exactly to fit your unique needs. You can turn even ordinary photos into spectacular masterpieces.
Appy Pie also provides a dedicated color wheel to ensure that designers get accurate colors on your designs. Covering the RGB & RYB spectrum, the color wheel on Appy Pie Design is perfect for all your needs.
You can even let multiple designers work on a design by using the dedicated team feature present within Appy Pie. Collaborate and change your designs according to inputs from multiple designers to create exquisite graphics for all your business needs. Once done with your designs, you can export them easily to the appropriate platforms in multiple image formats.
Appy Pie Design has been made with both entrepreneurs and small businesses in mind. It is a free tool that does not require a learning curve for someone that is just starting out. You don't need to invest much into your designing process – both skill and resource-wise. However, it does let you create unique and purposeful designs that will help you raise your brand's awareness and image through the power of graphic design!.