When it comes to Office Software, it is no doubt that Microsoft Office dominates. However, over the last couple of years, other players have decided to showcase their prowess in the game and opted to provide consumers with similar services. If you're using the new macOS Big Sur and you are in search of an option to go with, you're definitely at the right place. We outline to you the best free Office Software for Mac in 2022.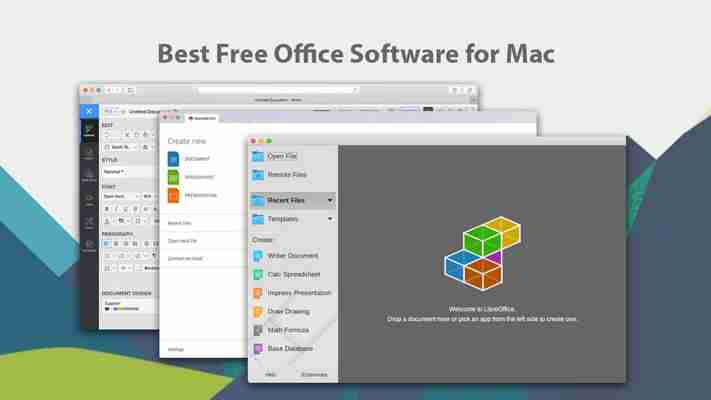 Best Free Office Software for Mac in 2022
1. Libre Free Office
Libre Writer in macOS Catalina
LibreOffice comes with everything that you could ever ask for in an Office Suite, and it is available for free. By the time you start using it, you'll wonder why you ever opted for other paid versions. It comes with every feature available in Word, Excel, and PowerPoint and is compatible with all document formats. LibreOffice was founded in 2010, and ever since, it has continued to offer loyal customers with nothing short of the best when it comes to their services.
Libra Calc
LibreOffice comes with six programs to assist in various tasks; Calc, Writer, Impress, Base, Draw, and Math. These programs also cover tasks for mathematical functions and databases as well as vector diagrams. We love it for its frequent update schedule that incorporates the latest features. Its latest release, version six, comes with lots of fantastic new features.
2. OnlyOffice Desktop Editors
Onlyoffice is cloud-based and suitable for small, medium, and large-sized companies. Individuals, institutions, and organizations will find it very useful. This software comes with sections for comments, revisions, and chats which are integrable using Sharepoint and Nextcloud, among others. Onlyoffice is designed with a simple and clean look. It looks more like WPS only with different tabs that are very handy.
OnlyOffice for Free
Using this software is simple, and you won't have problems adding content and including images. One thing worth commending with it is the feature that allows you to pick images from the internet using their URL Links directly. This saves you loads of time and energy. Its spreadsheet is solid while the presentations are well sorted. You will appreciate each of its features. Free Download OnlyOffice Desktop Editors
3. iWork
Most people often overlook iWork, and with this, underutilize it. This is a powerful software that comes with incredible features which are more than capable of getting work done. It comprises of three different applications; a keynote for presentations, pages for page layout and word processing and finally numbers used for spreadsheets.
Pages App
iWork is versatile, and you can achieve a lot with it. One outstanding feature with it is that it allows for multiple users to work on the same document simultaneously using different devices. Moreover, it is always up to date and synchronized regularly. Its features are spectacular and interesting. Get creative and try the new features with this amazing software.
4. Zoho Cloud Office
Zoho is a powerful brand, and this has earned it vast popularity, thus making the Zoho Cloud Office presumably one of the most widely used software after Microsoft. Its influence has enabled it to partner with other popular brands such as Nike and BBC. Zoho Cloud Office is well presented; that is an accolade that we have to give it to them. Its sterling spreadsheet and presentations are reasonable and come with the potential of producing professional documents.
Zoho Free Office
Features included in this software are numerous, and we can't outline all of them. But just to mention a few, Zoho comes with a file management solution, a site creation tool, and other collaborative tools. If you are new in the business world and have started your small business, Zoho is a great starting point.
5. Google Docs
If you're looking to work across different platforms and share documents, Google Docs will be a choice that is difficult to beat. It is the first choice to go for if you'll constantly be switching between PC and Mac. And if you're a heavy Google user, then you will be more than happy to use this software. Google Docs is also available as a mobile app for both Android and Apple devices.
Google Docs
With Google Docs, there is no advanced tool that you will settle for, but everything is brought out in a clear and simple manner. All your files are saved and synchronized automatically, and there is nothing to worry about when it comes to backups and transfers. For a simple and clear software without any complicated feature, and that will serve you equally good, Google Docs fits the job description perfectly.
6. Polaris Office
Users of Samsung Phones may already be conversant with the mobile version of Polaris. This is another player that has tossed itself in the software game. It is compatible with Android, iOS, macOS, Windows, and not to forget that it comes when already pre-installed on Samsung Phones. It offers users the basic customization choices and other cool premium features.
Polaris Office Editor
Prior to using Polaris Office, you are required to create an account and sign in using either Google or Facebook. The account is free, and you are awarded one Gigabyte of Cloud Storage and 60 MB data transfer renewable on a monthly basis. If the space provided isn't enough, you have the option of connecting with Dropbox, Google Drive, or Amazon Cloud Drive, among others for added storage.