If your company is just starting out, you may not be able to spend much and you're looking for quick and easy DIY design options. That's where online design tools come in handy. And Canva is a great option. This beloved graphic design tool hits almost every mark in making digital visual content—easy-to-use, affordable pricing, readymade templates—but there are plenty of Canva alternatives that are also worth exploring.
Maybe you're looking for different templates, or you don't want to pay for the premium features, or maybe you want to do more photo manipulation. Whatever your reasons, it's worth looking into Canva competitors to see if there's a better DIY design tool for you out there.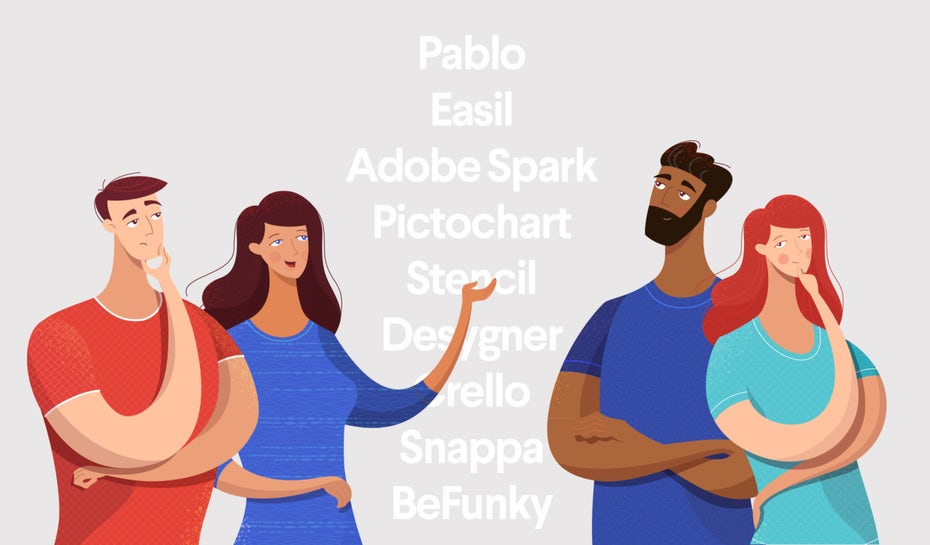 Canva alternatives
What are the top alternatives to Canva? Illustration by OrangeCrush.
Below, we dive deep into the top 9 alternatives to Canva, depending on your needs. Some specialize in social media designs, photo editing or infographics, others are all-rounders. Take a look at the pros, cons and recommendations for each to find the best fit for you.
What are the top alternatives to Canva?
—
Pablo
Easil
Adobe Spark
Piktochart
Stencil
Desygner
Crello
Snappa
BeFunky
1. Pablo
—
Canva alternatives: Pablo
Canva alternatives: Pablo
From Buffer, an app known for its social media prowess, comes a graphic design tool specifically catered to social media. Pablo offers templates already sized for the popular social media platform of your choice, so you never have to double-check your image dimensions or worry about the good parts getting cropped off. It even has a direct pathway to post on which social media you want in just a few clicks.
Other advantages include a Chrome extension that lets you open any picture you see online in Pablo, not to mention extensive typography options—good to have for social media graphics. This goes without saying, but there's also seamless integration with Buffer for early scheduling.
Pricing
Free
Pros
streamlined for social media use
Chrome extension for extra features
great for typography
Cons
only caters to social media—there's not much to work with outside of social media posts
Recommended if…
you want a Canva alternative exclusively for social media graphics
2. Easil
—
Canva alternatives: Easil
Canva alternatives: Easil
Drag, drop, design: their slogan explains it best. Easil really leans into its drag-and-drop style editor, targeting amateur designers who don't want to learn complicated shortcuts and hotkeys. Although this simplistic approach might turn off detail-oriented designers, if you're looking for quick-and-easy, Easil's a great tool for you.
The free plan is pretty solid, but you'll have to use a paid plan to access most of the templates and certain features like team functionality, transparent PNGs, or animation.
Pricing
Free plan
Easil Plus ($7.50/month)
Easil Edge ($59/month
Pros
even the Free plan has plenty of templates and stock photos to choose from
user friendly; very easy to use and learn
Cons
a lot of the good stuff is locked behind a paywall
Recommended if…
you prefer the simplistic drag-and-drop style over more advanced but time-consuming interfaces
3. Adobe Spark
—
Canva alternatives: Adobe Spark
Canva alternatives: Adobe Spark
As part of the Adobe family, Adobe Spark is one of the most famous alternatives to Canva. But compared to its sister products, Spark is the "easy to use" one—a far cry from the huge learning curves of Adobe Photoshop or Illustrator. But being the simplest Adobe product doesn't exactly make it simple; it's still a robust program, and for that we recommend using it on a desktop or laptop instead of a mobile device.
On the bright side, Spark comes with tons of built-in perks like a sizable library for templates, vector icons, presized social media canvas and gorgeous fonts. That's what you're paying for with the monthly subscription fee.
Pricing
Starter (free)
Individual ($9.99/month)
Team ($19.99/month)
Pros
thousands of free and paid templates and vector icons
excellent typographical options
team functionality (with the paid team plan)
Cons
mobile version is a bit cumbersome with the detailed interface
can't do much with the free plan
Recommended if…
you've never used an Adobe product you didn't like
4. Piktochart
—
Canva alternatives: Piktochart
Canva alternatives: Piktochart
Piktochart is a niche graphic design tool specializing in data visualization. In other words, it's mainly for reports, business presentations, charts and infographics. It has many of the same essentials as other Canva alternatives, such as a large template library and drag-and-drop interface. However, if you're not doing something data-heavy, you might find its features lacking.
The free plan is fairly weak, allowing only five visuals and imprinting them with its own watermark logo. Expect to shell out for a paid plan if you want to use it seriously, but considering the lowest paid plan is around $30, it's not exactly cheap.
Pricing
Free
Pro ($29/month)
Team ($99/month)
Pros
can't be beat for data visualization
paid plans have lots of features and templates
Cons
expensive, plus the free plan isn't viable
lackluster for any visuals that aren't about data
Recommended if…
your graphics needs are mostly about data, statistics and reporting
5. Stencil
—
Canva alternatives: Stencil
Canva alternatives: Stencil
Of all the Canva competitors, Stencil is the fiercest. It's the most similar to Canva with its convenient interface and generous template library, but it even has some features that Canva does not (for example, Stencil has a quote section for inspiration about famous quotations).
Stencil also boasts an impressive 3.1 million icons in its library, as well as an emphasis on speed for fast designs. The one glaring downside is the monthly limit—even the paid Pro plan only saves 50 images per month.
Pricing
Free
Pro ($9/month)
Unlimited ($12/month)
Pros
Affordable and effective
huge library of templates, stock images and icons
user-friendly
unique features like quote section
image resizing makes it easy to create social media posts
Cons
all but the most expensive plan have limits to the amount of visuals you can create
Recommended if…
you like the usability of Canva and only have to create a certain amount of images per month
6. Desygner
—
Canva alternatives: Desygner
Canva alternatives: Desygner
Desygner takes the "easy-to-use" aspect of Canva and runs with it. Everything is set up to accommodate amateur and first-time designers—it's in their slogan, "a graphic design tool for non-designers." They live up to that goal admirably, and without sacrificing too many features of dumbing everything down. In fact, they have more usable templates and stock images than the other Canva competitors.
This might be the most user-friendly of the alternatives to Canva. As a simple design app, Desynger works just fine on mobile devices, so it's ideal for on-the-go. Another great perk is that you can effortlessly edit PDFs, which comes in handy when you need it most. It's also competitively priced, which rounds out to a solid DIY design tool through and through.
Pricing
Free
Pro+ ($4.95/month)
Enterprise (custom)
Pros
thousands of templates; hundreds of thousands of stock images
very user friendly and easy-to-use interface
easy and simple enough to use on mobile devices
edit PDFs
inexpensive
Cons
its simplicity comes at the cost of more advanced features
Recommended if…
you prefer the quick-and-easy design style over a long-and-meticulous one
7. Crello
—
Canva alternatives: Crello
Canva alternatives: Crello
What Crello does well is walk the line between a simple interface for beginners and more advanced features for experts. The "Goldilocks" of Canva alternatives, it has all the basics, with hundreds of thousands of templates and usability that's suitable for beginners. But the main advantage of Crello isn't what it has in common with Canva, but what's different.
Crello offers a few unique features that set it apart from the other Canva competitors. The most obvious is that you can do animation, even without prior experience. The downside is that you'll likely have to buy the paid plan, since the free plan has limited downloads with watermarks.
Pricing
Starter (free)
Pro ($9.99/month)
Pros
perfect blend of advanced and simple features
cost-effective
one of the few Canva alternatives that supports animation
Cons
free plan leaves much to be desired, with watermarks and download limits
Recommended if…
you're new to design but genuinely want to improve—Crello is like a graphic design tool with training wheels
8. Snappa
—
Canva alternatives: Snappa
Canva alternatives: Snappa
Geared towards marketers and business professionals, Snappa sings the same old song of being a design tool for people who don't know how to design. It's got easy usability and a quick learning curve, but still provides all the features you need. Some even perceive it as a lightweight Photoshop.
There are some technical downsides, however. Like all of the tools mentioned in this article (including Canva), Snappa uses raster graphics only and does not support vector. You can only export in JPG or PNG, and forget about visual effects like animation. There's no auto-save or undo action. The free plan is pretty reasonable, although the 3 downloads per month limit can get frustrating.
Pricing
Starter (free)
Pro ($10/month)
Team ($20/month)
Pros
easy enough for business people to understand; advanced enough to business people to get good use from it
Cons
no auto-save
no undo action
no vector graphics
no more than 3 downloads per month unless you upgrade to Premium
Recommended if…
you have a lot of graphics to make and file formats are negligible
9. BeFunky
—
Canva alternatives: BeFunky
Canva alternatives: BeFunky
BeFunky is just as much of a photo editing app than graphic design software. It runs in three main modes: photo editor, collage maker and graphic designer. Its main appeal is opening up the doors for photo manipulation to everyday people—it utilizes the same drag-and-drop usability that makes editing photos easy for first-timers.
BeFunky is perfect if you want to stylize your photos before uploading them, but works well for creating original designs too. There's more effects than most other Canva alternatives, and even though you have to pay to unlock them all, the ones in the free plan might be enough for most people's needs (though free users also have to deal with ads). However, all those features make it a bit trickier to learn than Canva and its user-friendly peers.
Pricing
Free
BeFunky Plus ($4.99/month)
Pros
best photo editing/manipulation of the Canva alternatives
generous free plan
plenty of features and effects to play with
Cons
not as user friendly as the other alternatives of Canva; slightly longer learning curve
free plan has ads
Recommended if…
your graphics use a lot of photography
Are DIY design tools right for you?
—
What if your DIY designs just aren't hitting the mark? DIY tools like Canva are great options for creating simple graphics, but at some point of your journey you might find yourself in need of a custom design that goes beyond your own design skills.
There's one alternative to Canva we haven't mentioned yet: hiring a professional designer to create your design. No matter how easy a graphic design tool is, you still need a bit of design know-how and creativity to make effective visuals. Sometimes it's better to just hire a professional to do the job best.
Canva alternatives: 99designs
An alternative to DIY design: 99designs
This is where graphic design platforms come in.
On a design platform like 99designs you can easily find and hire a graphic designer to fit your needs. The 99designs community includes freelance designers to suit any taste, style, skill or business goal. If you need something designed—whether a logo, infographic, label, website, flyer or online ad—you can always hand over your design task to a pro. Here's how it works.
Pros
leverage professional expertise from a freelance designer instead of doing it yourself
launching a design contest let you see dozens of concepts from multiple designers
you'll get completely custom designs—no templates in sight
you own the full legal copyright to images
Cons
more expensive than DIY options
Recommended if…
you'd like an expert designer to improve upon your initial ideas
you're planning a long-term branding strategy, in which case professionally designed logos and images would be a worthwhile investment
you don't really want to design yourself
Know your options
—
There are many important considerations when designing visuals for your company. Whether you'd rather create them yourself or enlist the help of a pro, it's important to know your options. Be pragmatic in your approach, choose the option that best suits you and enjoy elevating your brand above competitors.