Best Graphic design software for beginners to start designing right away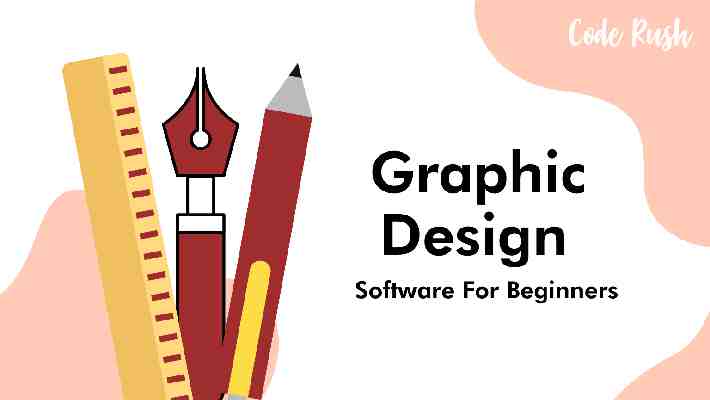 "A picture speaks a thousand words". Good graphics help everything look overwhelming whether they are used on your website or social media. With the help of eye-catching visuals and gripping content, users get engaged and stay on the page.
Be it a social media banner, website, pamphlet, hoarding boards, packing of products, every graphics designing work requires software. If you are a beginner looking forward to main your career in graphic design, we have you covered.
We have listed our top 10 best graphic design software for beginners. These software are easy-to-use and perfect for newbies. You can easily start to design compelling graphics and turn your creative ideas into reality.
List of best Graphic design software for beginners
Canva Figma Adobe Photoshop Adobe Illustrator Adobe InDesign Adobe XD Vectr Corel Draw
Canva is a browser-based graphic design tool with numerous features and functions. It has countless templates for social media posts, presentations, resumes, postcards, posters, business cards, e-mail, logos, infographics, etc. You can edit and modify all these templates according to your own will or make your own design from scratch on an empty artboard.
The usability is user-friendly, and elements are very easy to use due to its drag and drop feature. You can drag the required element and drop it, resize, edit and flip them. All tools and elements are easily understandable. You can add your own fonts, color palette, images, etc. There are millions of images, photo filters, free icons & shapes, and hundreds of fonts available in Canva. You can also make simple videos with animation on each page. Basically, Canva includes every feature you need to make an amazing design.
But Canva doesn't support complicated designs. This tool is a great way for designing ideas, but if you want to make your own graphics then you have to switch to more complicated software.
Pros
Easy to use
No need to install
Easily accessible from every device
Thousands of templates and ideas
Easily modifiable
Thousands of free images, videos and music
Cons
Requires internet connection
Doesn't support making own graphic
Figma is a browser-based online designing software. Its main purpose is interface designing but there is much more than that. It supports real-time collaboration with teammates. You can add members to the design and make changes or download the designs simultaneously.
Figma consists of all the features regarding designing. It includes prototyping capabilities and generates code for handoff and fully-fledged vector tools from which you can make vector illustrations.
There are many benefits to using Figma. First of all, it is user-friendly and easy to use. You can use the 'vector networks' tool to create complex shapes. It supports SVG codes to directly be pasted as graphics. Little features like these make Figma one of the most popular graphic designing online tools.
Pros
Real-time collaboration
Quick and easy file sharing
All in one tool
Provides free plan
Cloud-based
Cons
Less privacy
Might become slow due to browser caches
Adobe XD is a graphic designing software used for designing interfaces of websites and apps. The designs are mostly vector-based digital designs. It is mostly used to make wireframes, prototypes, and UI/ UX of an app.
Features of XD are getting better every day. You can design using voice commands, link artboards to view on mobile devices, CSS snippets are generated automatically, add plugins for extra functionality, easily share the design with others, and so on. This software runs on Mac, Windows, and on mobile devices Android and iOS.
Although Adobe XD is new to the market, it is getting popular at a rapid pace. It consists of features of both Figma and Sketch. XD is a tool that professionals use so it may be difficult to learn the tools as a beginner. But if you want to pursue your career in graphic design then XD is a great way to start.
Pros
Runs on mobile devices Android and IOS.
Library of designing particles
Apply transition effects and animations
Test designing failures are almost zero
Cons
Some features are only available for iOS and not Android.
Real-time collaboration unavailable
Of course, how can we miss Adobe Photoshop? Photoshop is a very interesting software with effective photo editing tools. Even for a beginner, learning photoshop can be helpful and useful in becoming a pro. Using the right tools you can turn a simple photo into a piece of art. With the help of countless tools, you can modify a photo however you intend to change it.
Photoshop is mostly used by professional designers. But the learning curve is quite easier for the beginners to get started as well. There are endless designs you can do with photoshop tools, you can combine photos, remove unnecessary objects, correct perspective, mix colors, clone part of images, and many more. As a beginner learning the tools can be difficult but as you continue to learn, you will progress at designing.
Photoshop contains features such as cropping, rotating, flipping, straightening, auto fixing, blemish removal, change color of an image, rendering image, add borders, and import & export in various formats. It runs on both Mac and windows.
Pros
Smooth photo editing
Number of creative tools
High performance
Cons
Takes a lot of space
Learning the tools can be hard
Adobe Illustrators are great for vector graphic designs. It is mostly used for creating logos, making icons, illustrations, infographics, sketches, etc. illustrator provides a handful of tools for creating a perfect graphic.
Illustrator includes creative features like cloud libraries, images in brushes, multiple file places, touch-type features, CSS extraction, color syncing, and many more. Likewise in photoshop, a beginner can have a hard time mastering the tools but after you master them, then you are no less than a pro. Most professionals use illustrator as their basic graphic designing software. It runs on both Windows and Mac.
Pros
Useful for creating vector designs
Used to create professional designs
In- panel editing
Scalable
Useful for creating print and web graphics
Offers steep earning curve
Creates files in manageable sizes
Cons
Requires patience
Costly
Adobe Indesign is a graphic designing software mostly used by business offices. It is ideal for creating layouts of banners, magazines, brochures, printed books. The tools provided by InDesign helps to make sharp designs perfect to look professional and classy.
The software is flexible and allows you to drag and drop layers and resize them. You can sink Adobe InDesign with your mobile or desktop app and work efficiently. It is available for both Mac and windows.
Pros
Easy to make sharp graphics
The learning curve is low, ideal for beginners
Numerous features
Cons
The graphic designing tool is not powerful
Photo editing is limited
Vectr is a free graphic designing software popular for making 2D vector graphics. Vectr can handle different types of projects like t-shirt printing and designs for social media, websites, etc. The UI is simple and the interface is user friendly.
Vectr is convenient for teamwork designs as it supports exchanging information from multiple devices. This collaboration feature is handy as designs are made with immediate feedback. It consists of easy-to-learn tools with numerous tutorials on the web. It is highly suitable for beginners as it offers easily usable tools and filters with editing options.
The software can be used both as a browser-based app or as a desktop app. This software can be said as a genuine alternative to Illustrator.
Pros
Can be used in browser
Realtime sharing and collaboration
Easy to use
WordPress integration
Cons
none
Coreldraw is a vector graphics designing software. It is mostly used to create logos, banners, brochures, invitation cards, flexes, and other vector-based design linings. It is popular for designing 2D images and graphics.
It is a very old software but the new releases contain a lot of features. It also enables you to adjust the photo perspective and envelope bitmaps.
Pros
Fast and light software
Easy to use User interface
High-quality bitmap editing
Less expensive than competitors
Cons
Limited editing tools
The layering isn't good
Conclusion
There are a number of graphics designing software but remember to choose a platform in which you feel is comfortable. As a beginner learning can be difficult but don't give up and start from the basics. You can take the help of online tutorial videos or learn graphic design step by step here. When your passion meets the right kind of software, no one can stop your journey to help you become a graphics designer.
Don't forget to let us know, which software you will be choosing to kickstart your career.