Word processing software helps you manipulate a text document and create or edit a text document.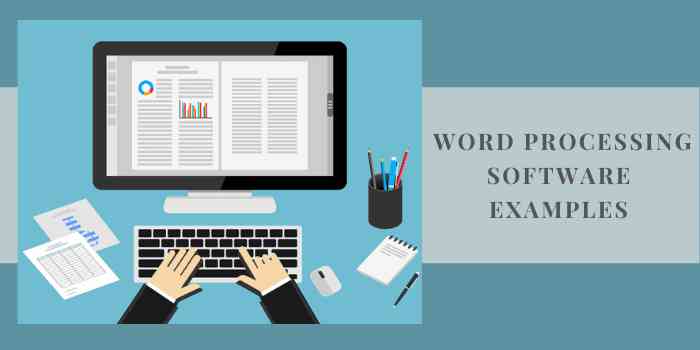 A quality word processing software can also provide output options such as printing or exporting a text document into other formats.
Without word processing software, you would have difficulty processing paragraphs, pages, and even papers.
Not many people know that early word processing software was standalone devices, but word processors come as lightweight software that's easy to install with technological advancements.
Another great advantage of word processing software is that it allows you to store documents electronically, display them across screens, or fully modify documents before printing them.
Even though word processing software isn't complex to learn, it might take a bit of time to learn how to take full advantage of the software with so many functions.
Also, keep in mind that some word processing software comes from the office bundle that includes other processing software.
In this article, you'll learn more about word processing software and see 15 of the best examples.
Whether you're a writer, editor, or only need quality word processing software to prepare your documents pre-printing, at least one of these 15 software will be a good pick!
Best 15 Word Processing Software Examples
Even though most word processing software has similar features and offers similar benefits, the small but significant differences between these word processing software examples can make a huge difference for personal use.
The most known word processing software is Microsoft Word, and chances are high you've used it at least on one occasion to process or create text documents.
Word is the most known word processing software because the creator of Windows creates it and it often comes integrated with the Windows operating system.
However, Word is also known for the benefits it offers. Improved search and navigational experience combined with the ability to work with others simultaneously are just some of the benefits.
Along with that, Word gives you the ability to access, share, and work on your documents from almost anywhere.
With plenty of options to create, edit, and process text, Word also has additional visual effects, turning text into diagrams, and combining visual aspects into text documents.
Instant help when creating documents is another great integration that especially helps writers. Exporting and having document flexibility is helpful when producing specific documents for your studies or work, and it's just one of many benefits of Word.
iWork Pages is a must-have word processing software for Apple users. Even though Microsoft Word is available for macOS, iWork is a great native alternative that helps Apple users process, create, and work with word documents.
iWork Pages was previously known as AppleWorks, and it is part of the official Apple iWork suite.
Not only Pages can help you create documents, but they can also help you to collaborate with others efficiently, create animated documents from your data, and even build interactive charts from your text.
What's great about Pages is that it comes with built-in help and sample formulas, so you don't always have to create a document from scratch. Instead, you can use templates or benefit from function suggestions to improve the way you work.
With over 30 spreadsheet templates, you won't have to create text documents from scratch unless you enjoy creating your work from scratch. Templates can help you spend less time formatting and creating the basics of your document and yet leave you with more time to focus on your text.
Among the paid word processing software, there are a couple of free gems such as OpenOffice.
OpenOffice is a free and open productivity suite that includes Writer, the perfect software for word processing.
Whether you're trying to draft a quick letter or working on complex text documents (maybe even writing a book), the writer is a reliable and fully equipped word processing software to handle all needed tasks.
What's great about Writer is that it is very easy to use, so you won't have to spend hours learning the ins and outs of the software to take full advantage of it.
Instead, you will be able to focus on producing documents of all types and letting Writer help you along the way.
With built-in features such as AutoCorrect or AutoComplete, you can quickly write your documents without having to worry about making mistakes.
Along with these two features, OpenOffice Writer comes with a table of contents, references, multi-page display, and notes to help you annotate and review documents, as well as create well-structured text documents.
Lastly, exporting isn't going to be a problem since Writer can help you export your text document into other formats such as HTML, PDF, or even
Also, keep in mind that OpenOffice provides templates you can download and use with Writer to make your drafts easier.
WordPerfect is described as the Microsoft Office alternative. It is an all-in-one suite that focuses on productivity and efficiency when working with digital documents (especially text documents).
Inside the WordPerfect Office, you will have access to a neat and efficient word processor that can help you quickly draft new documents, create letters or brochures, write resumes, and even start writing a book.
What's so special about WordPerfect is that it supports collaboration with about 60 file formats, so you can import and export documents from any third-party software.
With the help of Reveal Codes, WordPerfect provides seamless formatting after you import documents from any source.
And if you're looking to "spice up" your text documents, you can do so easily with the help of built-in PDF forms into this powerful and versatile word processing software.
If you spend a lot of time writing documents in your word processing software, and yet you find it hard to concentrate and focus on the words, FocusWriter is a great pick.
FocusWriter is a very simple word processing software that utilizes a versatile interface hidden away from the most important part of the software. This way, you can focus on the page and text, and whenever you need to use any integrated feature, all you have to do is swipe your cursor across the edges to open the hidden menu.
With integrated features such as timers, alarms, daily goals, fully customizable themes, and even the ability to use typewriter sound effects, this word processing software will help you stay on track and get things done.
Along with these features, FocusWriter has optional features such as live statistics, spell-checking, and even the ability to use FocusWriter in 20 different languages.
These features aim to improve the user experience and make word processing tasks fun and more productive since you can set your own goals.
This is a word processing software that adds improved features that aren't very common among its competitors.
When you are a very organized person and need word processing software that will match this, LibreOffice Writer is worth trying.
LibreOffice Writer is a modern word processing software that ensures you can edit any document quickly with the help of integrated features.
Therefore, Writer is good enough for doing quick and simple edits. Still, it's also more than enough to finish books, edit many content pages, add diagrams, and even feature indexes into your documents.
The user interface is very neat and even though there are many features they're hidden away so you can focus on the most important aspect of word processing: the text.
When you require a very similar word processing software to Word, and yet you're on a budget, AbiWord is a good choice.
AbiWord is compatible with the latest operating systems and interface-wise, it is very similar to Microsoft Word. Even though it's not the "prettiest" word processing software, it has everything you might need to get the work done efficiently, and it won't cost you a penny.
With compatibility to work with all standard text documents, AbiWord also allows you to share your documents with others easily or even merge your letters directly with your email.
Even though AbiWord might not have all features other word processing software include, AbiWord is built on the extensible plugin architecture, so you can always find plugins to include features you might be missing.
On top of that, I should mention that AbiWord is available in 30 different languages, and it is still getting updates so that you won't be relying on an outdated version.
WPS offers a suite similar to Microsoft Office that includes three components: the Word, Excel, and Presentation.
Word is a word processing software that is highly compatible with almost all compatible document formats, and it is even compatible with all operations systems.
Creating documents from scratch with Word is very simple, and yet with standard formatting tools everyone is familiar with, editing documents is even easier.
On top of that, Word includes many extras that are rarely found in other word processing software, such as hundreds of document templates. Therefore, if you don't feel like creating documents from scratch, basing your documents on pre-existing templates can save you a lot of time and work.
Combining media with text is highly possible, and viewing multiple documents simultaneously improves efficiency when working with multiple documents.
With collaboration tools, password protection for chosen documents, and automatic spell-checking tools, you can easily get your work done without worrying about accuracy.
Polaris Office is a combination of tools that includes Docs, a highly versatile version that's very similar to a combination of Microsoft Word and Google Docs.
It's a very versatile word processing software that allows you to work on your documents wherever you are.
Not only is it available as computer software, but it also has a dedicated web browser version and even the app version suitable for Android and iOS smartphones.
Collaboration is guaranteed with such versatility, and when it comes down to getting the work done, Polaris Docs supports all types of documents, including sheets, slides, and more.
Saved documents can be worked on in groups, meaning that more than one person can edit the document in real-time. And if you ever decide to collaborate on a document with someone, you can invite them with a link and keep the communication open with an integrated chat in the Polaris Docs.
Feature-wise, Polaris Docs is packed with the most standard features you would expect from a word processing software, and yet the main improvement is the way you can collaborate with others and work on the same document in real-time.
If you search for a word processing document that will leave you on your own with your words and yet will hide all functionalities in a very minimalistic and simple interface, Writemonkey makes a great choice.
Writemonkey might look like a coding interface at first, but it is a stripped-down word processing software that helps you focus on your writing.
Of course, Writemonkey is also ideal for making quick edits and even reading.
This is probably one of the lightest and smallest word processing software that is very easy to install and even easier to get used to.
What's also great is that you have full control over the interface to customize it to your needs. On top of that, you can set timed writing or even feature a visual progress bar to make your writing work feel like a breeze.
And if you ever end up missing something in Writemonkey, you can always introduce third-party upgrades to this word processing software via plugins.
When you need a versatile, reliable, and quick word processing software that's perhaps web-based, Dropbox Paper is worth considering.
Dropbox Paper is a lightweight web-based word processing software that allows simple editing and collaboration between teams.
With Dropbox Paper, you can create documents from scratch or import existing documents to easily track any edits or changes made by your team members. On top of that, with this light word processing software, you can keep everything organized, ensure feedback is properly given, and even improve your documents.
You can do almost everything in Dropbox Paper that you would do in other word processing software. However, Paper can also serve as a co-editing software.
Whether you're trying to improve communication in your team, improve collaboration between team members, or you're writing a book with your partner, Paper is the place to stay productive, organized, and efficient.
If you require professional word processing software to handle your business/work documents or edit and prepare your book for publishing, Scribus is a great choice.
Even though it's a bit different from standard word processing software, Scribus allows you to choose one of the designed layouts, set your typesetting, and even improve your written documents with professional-looking quality images.
With Scribus, you can also create animations that you can place directly inside your document, or you can turn your text documents into interactive PDF presentations.
On top of that, the creation of forms or questionnaires is very simple. With OpenType support, you can now edit your existing documents with advanced features such as advanced typography.
While Scribus is a great fit for simple editing and personal documents, it excels at creating magazine covers, newspaper front pages, preparing the books for publishing, and even manufacturing artwork.
It might not be the standard word processing software most people are looking for, but it will fit professional needs easily for a very fair price.
When you need a simple word processing software, SoftMaker FreeOffice is a great stepping stone that won't cost you anything, and yet it includes almost everything you might need for personal or business use.
In the FreeOffice, you will get TextMaker included. TextMaker is a small but efficient word processing software that allows you to create all types of documents and edit existing documents that you can easily import.
What's unique about TextMaker is that it doesn't only focus on written documents. Instead, it also offers great features for processing words on graphics. Therefore, you can use TextMaker to create great text for your images, logos, or even banners.
With many different fonts, styles, and even wrapping options, TextMaker will make all your graphics look professional and attractive yet easy to read.
Since TextMaker can import almost all types of documents, you can also export your work in the most standard formats, such as Word DOC and DOCX. However, what's also great about TextMaker is that it allows you to create PDF files from your documents.
You can even create an EPUB eBook with the help of TextMaker, which is a great feature, considering that SoftMaker provides the TextMaker for free.
Zoho Docs Writer is a perfect example of an online word processing software that is easy to use and easy to access. Yet, in return, you will get very reliable and advanced features you can use on any of your documents.
The writer allows you to focus on your words in a distraction-free interface, yet you can work with others in an effortless document sharing.
With the most standard features, you would expect a word processing software packed in the interface you can access via the web browser and even get unlimited versions of your document.
These versions help you compare differences and find differences after collaboration with others.
One of the most advanced yet convenient features is publishing your documents directly (if you are a content creator).
If not, Zoho Docs Writer can help you electronically sign documents and even fill out PDF forms (or edit PDFs) without a problem.
Suppose you are not a fan of standalone word processing documents or don't consider your computer reliable enough for your work. In that case, Google Docs is one of the most reliable web-based word processing software than most others in this space that you can get your hands on.
Along with the Sheets, Slides, and Forms, Docs allows you to not only create documents from scratch or import and edit existing documents, but it also allows you to store all your documents in the cloud for free.
You can easily access your documents from any device, as long as you're signed in to your Google account, and yet you will easily get used to the functionality and features of the Docs.
On top of that, Docs is very flexible, so you can export them in many different formats just the way you can import documents. However, one thing to keep in mind is that you will need an internet connection at all times to access your documents or work on them.
Conclusion
Even though Microsoft Word is one of the most known word processing software globally, there is much other software that is as good and worth giving it a try.
One couldn't do without quality word processing software, but you even get the chance to find the one that will fit your needs the most with so many choices.
Even though each one of these is similar, there are differences in the interface, functionality, and even features that the software provides.
With that being said, you can easily choose according to your needs and purpose, which I highly recommend!