Whether you want to create a letter, report, essay, or any other document, a word processor is one of the first tools you can use for that.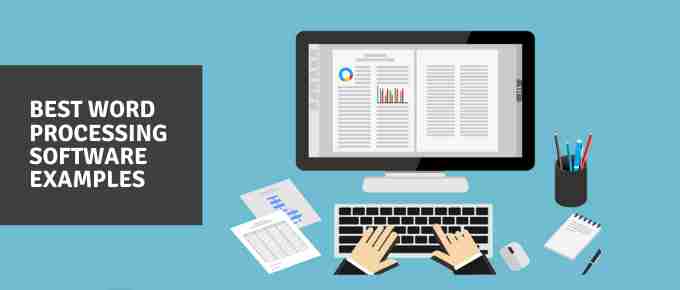 Word processors help you work with text documents such that you can create, edit, and print them, check spelling automatically, create tables and columns, and use a wide selection of templates among other things.
Most people use Microsoft Word as their default word processing software, but there are many other word processors available each with helpful features that will fit your needs.
You should find that most of these best word processing software examples can handle just about everything you need. Some of them are free while others come at a small fee with extra purchase add-ons for basic functionality and more.
If you'd rather do your writing online, we've also included some word processors that don't require a download, and you can access them wherever you are provided you have an internet connection.
The options below are easy to use and provide a reliable platform you can work from whether you're at home, at work, or in the office.
Best Word Processing Software Examples
Formerly Kingsoft Office, WPS Office is a word processor that looks and feels just like Microsoft Word, except that it's completely free to use.
You get 1GB free cloud storage with OneDrive, pre-installed templates for different common types of documents, and you can create your own template too for bespoke tasks.
The software is compatible with current and legacy Microsoft Word versions from Office 97 or newer, and every text file format you can think of. Plus, it's supported by discrete and barely noticeable ads, though you can upgrade to the paid-for version to remove these ads.
It's very impressive, and comes with a free PDF to Word converter, which is a handy companion to the word processor. Its tabbed interface, uncluttered menu, and clean design make WPS Office Writer easy to use.
You can perform spell check automatically and toggle it on and off from the menu. You can also add custom dictionaries, create a table of contents or cover page, encrypt documents, and use the side pane to view all pages of a document.
Writer also supports dual page layout, full-screen mode, and has a hide menu option to prevent distractions when you're writing. You can also use the view mode, which turns the background of the page into a greenish color to protect against eye damage.
You can use Writer with Windows, Mac, Linux, and mobile devices (Android or iPhone).
Google Docs is a free online word processor that also works similarly to Microsoft Word so you can create, edit, print, and collaborate on documents easily and quickly.
The software allows you to access your work wherever you are, and at any time you want. There are robust editing options that allow you to insert tables, images, comments, and special characters, bookmarks, headers and footers, and more.
You can also type documents with your voice. And if you want to share or edit the document with others, you can do that easily on Google Docs. It also allows you to track edits that other users make along with time stamps.
Besides creating your own documents online, Google Docs allows you to upload other documents from your computer like .docx files and work on them. You can use the cloud-based tool from multiple devices including your computer, tablet, or phone through the mobile app for Android and iOS devices.
The features and space may not be as many as those that other word processors provide and you need a Google account to use Google Docs. You also can't import content from other Google apps, and if you try to, you'll run into multiple formatting issues.
However, its features are all free to use once you're all set up. It's also one of the most obvious choices, with the advantage of automatic saving for all your work.
You can work offline if you're using Google Docs on Chrome browser, and you won't have to worry if your connection fails.
FocusWriter is a portable word processor with a minimal interface. The software allows you to open and save documents to DOCX, RTF, ODT, TXT, and other popular formats you may be used to.
The program hides menus automatically along with other buttons so that you can write without distractions. You can also run FocusWriter in full-screen mode so that you focus only on the current program window.
You can use the usual basic formatting you'd find with other popular word processors like bold, underling, strikethrough, and text alignment. You can also edit page margins, line spacing, color, foreground, and background text to produce custom themes.
The software also comes with an alarm so you can set goals based on your typing needs. For example, you can type a specific number of words or type for a specific number of minutes per day. Another advantage of FocusWriter is that it's regularly updated so you know you can get frequent security updates and new features as you need them.
FocusWriter is chock-full of intelligent features for maximizing your productivity without getting in the way of your writing.
It also has alerts that are triggered at specific times or whenever you hit a certain, predefined word count. This way, you won't need to worry about checking a word counter as you would with other word processors.
Like other word processors, FocusWriter works with Windows, Mac, and Linux devices.
TextMaker is a free word processor that's part of the SoftMaker FreeOffice suite of office programs. The software comes with several handy templates, a good-looking interface, and a decent selection of features, though they may not be as extensive as some other word processors.
With the templates, you can create letters and other everyday documents, make new designs for future use, and save them in the TMV format.
You'll find all the usual features of modern word processing software in TextMaker, like advanced formatting options, and a function for tracking changes on collaborative projects. You also get to create databases to manage your footnotes and bibliographies.
While you can't save your work in the DOCX format, TextMaker still lets you open such files and edit them with no difficulty, but this feature is only part of the premium SoftMaker Office suite.
You can also open OpenDocument extensions and save them as PDFs, spell check in 58 languages, insert tables, drawings, and pictures, and create PDF files and ebooks in EPUB format directly in the app.
The first time you open the word processor, you can select a classic menu style or use a familiar ribbon menu, which is like what you'd find in Word or other popular word processors.
You also get a touch mode option that you can enable.
The menu options are logically organized and you can create chapters, footnotes, preview documents before opening them, insert comments, track changes, add objects, and use shapes, plus much more.
TextMaker opens a wide range of documents including plain text, OpenDocument files, WPD, WRI, SXW, PWD, and more. If you want to save your work, TextMaker exports to HTML, DOCX, TXT, and DOTX, specific file formats like TMD and TMDX, and more.
You can download TextMaker as part of FreeOffice, and then install either the word processor alone or the entire suite of programs.
TextMaker works with Windows, Mac, Linux, and Android operating systems, and is free for home and business use.
Microsoft Word has been used since 1983 when Microsoft first developed it. Since then, they've released many updated versions of the word processing software, each with more features and better technology than its predecessor.
Microsoft 365 is the most current web-based version of the program, but Microsoft Office 2019 – the software version – comes with MS Word 2019.
You can get Word in all MS Office application suites, along with others like Excel, PowerPoint, Outlook, and more.
With Word, you can do many things including creating simple documents with numbered and bulleted lists and choose from various pre-configured designs and styles for easier formatting. You can also insert videos and pictures from the web or your computer, draw shapes, and create different kinds of charts.
You can also set tabs and margins, insert page breaks, configure the spacing between lines, and create a table of contents too.
In Word, you can easily transform documents into web pages whether it's a newsletter or other document you want to publish for others to see. Plus, you can get real-time translation in a single click and collaborate with others across the globe in non-native languages.
When you want to add dimension to your documents, Word allows you to get creative by inserting 3D models in your presentations, book reports, or other documents. And once you're done, review and read your writing with ease using Word's learning tools that elevate your reading comprehension.
You can read articles in the task pane, use the editor to check your spelling and grammar to write with confidence, and see how task management works to assign, manage, and complete tasks.
LibreOffice Writer is a word processor that helps you edit all kinds of documents to create impeccable work in a few clicks. You can work offline using this free and open-source word processor that handles all your writing-related tasks like Word and other word processors can.
The software runs on any computer and is a great option for in-depth functionality. You can get all the features you need to edit your documents on a simple and easy-to-use platform.
You can create documents like books or memos, add diagrams, use indexes, and more. And you don't have to waste time trying to make the document look good – Writer does that for you so you're free to focus on your message.
Your documents will look beautiful and you can select or apply fonts from your computer, customize styles for any part of the document, and trap any spelling mistakes or typos on the fly.
There's an AutoCorrect dictionary available for you to check your spelling as you type and you can use different languages in your work too.
To help you through your document, LibreOffice Writer offers different wizards that take the stress out of producing letters, minutes, faxes, agendas, and other standard documents.
It also makes short work of mail merges and other more complex tasks.
By default, LibreOffice Writer ships with document templates so you don't have to create complex documents because that feature is built-in just for you.
As a fork of Apache OpenOffice, LibreOffice offers similar word processing apps, but the latter has a livelier userbase and gets more frequent updates.
You can use LibreOffice Writer with your Windows, Mac, or Linux computer. It supports all popular file formats and you can export documents to PDF directly from LibreOffice Writer, so you won't need a PDF converter or other additional software.
OpenOffice Writer is a free word processor that's included as part of the OpenOffice Suite, which contains other programs like a database, presentation, and spreadsheet program.
With Writer, which is like Word for Microsoft 365, you can perform several things including spell check, using custom font styles, bookmarks, macros, native image gallery, and keyboard shortcuts.
The software also comes with a portable version, which you can use with a disc or flash drive if you don't want to install it.
All the important features you expect to find in a word processor are included. You also get support for a wide range of popular file types, the ability to add side notes, and wizards that are easy to use when creating faxes, letters, and agendas.
In the side menu pane, you can switch between styles, editing page properties, and formatting to insert images from the gallery. You can also undock the pane settings to get more room to write with simple access to crucial features.
To get Writer, though, you need to download the entire OpenOffice Suite, even if you have the portable option.
Other features you get include opening Word files – DOC and DOCX files – without installing Word on your device. You can also record macros to automate tasks, access the thesaurus from the right-click context menu, use different zoom options for viewing the document, and more.
OpenOffice Writer works with Windows, Mac, and Linux devices. It may be a bit overwhelming to use the first time, but once you're familiar with the menus and buttons, it's easy to use.
WordGraph is a word processor with many standard features that other word processors provide. However, it also has some unique tools that you may not get elsewhere.
Besides charts, graphics, tables, and illustrations, WordGraph can also create an index and table of contents, produce PDFs, and access files from Dropbox and OneDrive among other storage services.
You can spell-check your work using the software and quickly create great letters, books, or other documents complete with embedded illustrations, bibliographies, tables of contents, and indexes.
The software is powerful for creating, editing, and viewing different documents, and you can also create highly structured yet simple documents like tables, charts, graphics, and more.
If you want a fine degree of control over text formatting, document sections, pages, and entire documents, WordGraph provides all that. You can also save your work in various industry-standard formats and export it to BMP, PDF, JPG, GIF, PNG, and SSP – which is their own presentation format.
The software works with MS Office formats like TXT, DOC, SSP, and RTC. You can also create PDFs without any extra tools thanks to its native PDF capabilities that let you share work easily and with anyone.
Other features you find with WordGraph include thumbnail previews, tabbed document interfaces, direct online cloud access, multi-display compatibility, WordArt, Math Equations, and more.
WordGraph works on Windows, Mac, and Linux machines, and you can download the application on its own without downloading the entire SSuite Office software.
WriteMonkey centers its software around offering a distraction-free interface so you can focus on your work and nothing else.
The portable word processor offers menu options that are only displayed when you right-click your document and you can then open new documents, toggle focus mode, open dev tools, or copy text, and more.
You can maximize your output on WriteMonkey without fussing with the edit and format part of the software. It's not built for creating CVs and letters, but is good for when you want to draft your early ideas and jot them down to flesh out later.
The program works with TXT files only (like Notepad), which means if you want to open a document, you need to convert it to TXT first.
The controls are hidden, meaning you'll struggle to navigate, but you can use a collection of keyboard shortcuts or the right-click menu. These make it faster to use WriteMonkey than using tool-based word processors.
You can also lookup words in Wikipedia, or Google Images, and many others without opening your browser manually.
There's no need to install WriteMonkey because it's portable – just extract the files to a cloud storage service or removable drive and run the file to fire up the program.
Jarte is a word processor that offers some features you wish you could get in the popular options. You can customize your document layout in different ways, set up the software to autosave every 20 minutes or so, open documents in a tabbed format, and use the portable option too.
The free word processor supports common file types and allows you to install spell check dictionaries as you set up the software on your device. You can configure it to open the last file you were using automatically when launching the software.
Jarte is fully compatible with Windows XP, Vista, 8/8.1, and 10. You can open DOCX, DOC, and RTF file extensions, use full touchscreen support with finger swipe scrolling, and automatic screen reader mode for screen reader programs.
You also get to link to or import existing spelling dictionaries, export to PDF or HTML, use Jarte with other programs via Hot Connect, send files via email, and get full drag-and-drop support plus much more.
When editing, you can insert images, page breaks, tables, hyperlinks, equations, and other embeddable objects. You also get standard clipboard functions, font and paragraph formatting, print functions, undo and redo, sorting, and more.
Wrapping Up
Word processors are handy programs you can use on your computer or mobile device for input, editing, formatting, and text output. They come with multiple features that let you create, edit, save, and print documents.
These 10 best word processing software examples can do all these things and more. You can download one or more and try each one to find the best one suited to your needs.